Oct 03, 2019
Melitron Showcases High Tech Manufacturing and Careers for MFG Day 2019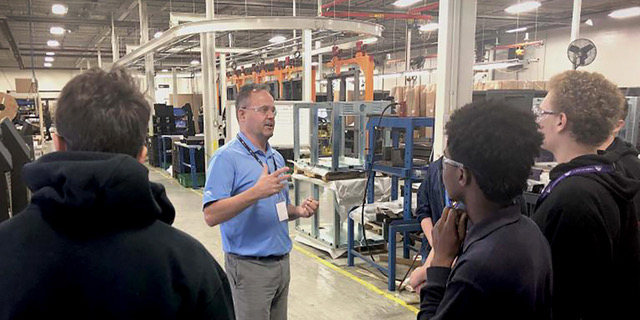 Today, leading manufacturer Melitron Corporation hosted local high school students at the company's high tech facilities in Guelph for Manufacturing Day 2019 (MFG Day 2019) to showcase today's modern manufacturing environment and highlight the outstanding career opportunities available in the sector.
Melitron Corporation is a leading designer, developer and manufacturer of outdoor digital display solutions such as digital drive-thru menu boards, digital signage and interactive kiosks, and other custom metal enclosure solutions. As part of the visit, students learned about Melitron's work in high tech manufacturing, participated in a live demonstration of computer-aided design, robotics and laser cutting, and toured the company's 114,000 square foot facility which features some of the world's leading brands in robotics, automation equipment and high tech manufacturing systems.
"Modern manufacturing is a vibrant and growing industry with diverse career opportunities," said Mike Turner, President and Chief Executive Officer, Melitron Corporation. "We hope our participation in Manufacturing Day 2019 inspires students to pursue a career in manufacturing and maybe even a career at Melitron right here in Guelph."
Manufacturing Day is an annual national event held in communities across Canada and the US. Each year, thousands of manufacturers open their doors to students, teachers, parents and community members to help change perceptions of manufacturing and highlight the innovative companies that are solving the challenges of today and tomorrow.
Inspire Youth with the Smart Manufacturing App and Comic Book
Melitron invites parents and educators to help inspire students to pursue a career in modern manufacturing and engineering, including augmented reality, Internet of Things (IoT), and additive manufacturing, with the Smart Manufacturing App and Comic Book, available free on the App Store and Google Play.
Students use the app and comic book to follow the story of superheroes manufacturing a drone. They'll solve everyday challenges in manufacturing by making decisions about product design, retooling the factory, and performing service on a robot that is unexpectedly in need of repair.
More information on MFG Day is available at www.mfgday.com.
---